For most people just the idea of a sex swings is pretty intimidating. 
Is it just a novelty item? Can it really improve my sex life? Is it safe? How do I choose the right one? Am I limber enough to use it? What will other people think? Will it benefit my partner too? Is it a very big commitment to make? 
These are just a few questions that could be going through your mind, but by the end of this post you will have a good understanding about this sexual game changer and may even want to buy one! 
What is a sex swing
Simply and technically put, a sex swing is any tool which elevates one or more people in order to facilitate a sexual experience. 
The common misconception about sex swings is that you need to be fit or flexible to be able to use them, however this is so far from the truth. 
A sex swing actually helps you to get into positions that could be physically difficult for you or your partner to achieve, by supporting some or all of your (or your partner's) weight. 
There are many positions that require strength, flexibility, decent hip mobility and even some acrobatic abilities in order to perform. A sex swings can make a lot of these position easier and safer to execute. 
By taking strain off your body, you are able to enjoy your favourite positions more deeply and experiment with new and exciting poses.  
Sex swings help you to work smart, not hard in the bedroom. And by doing this you can really enjoy the sex!
And let's face it novelty is great for any sexual relationship, as Women's Health Magazine explains, especially if you've been with your partner for a while. It's a great way to spice things up along with these other ideas. 
Different Types Of Sex Swings
Sex Swings 
When you think of a sex swing the most common visualisation that comes to mind is a couple elevated from the ground by various straps attached to the ceiling. Well this is a sex swing and the most popular option due to its flexibility. 
A sex swing has two main straps and stirrups that allow you to manipulate your or your partner's body in oh so many different and exciting positions. There are many ways to install a sex swing which we cover below and you can choose both permanent solutions and temporary ones. 
Sex Slings
"Sex Sling" is the comfortable and cautious cousin of "Sex Swing". Slings are less straps and ropes and more of a hammock. They have 4 mounting points (decreasing the chance of putting too much strain or pressure on one single point) and one large piece of material that supports your entire body. 
So if you're looking for a more comfortable and safe option, this is best for you!
The downside however is that sex slings are far less flexible and don't offer as much of a range of sexual position as a sex swing does. Positions are limited to laying back (like in a hammock) or sitting up (like in a chair). 
But they are great for oral, putting the person who is receiving in an ideal position for their partner to lick or suck away – making the entire experience more comfortable therefore extremely enjoyable.
Door Swings 
Ever wanted to act on the "sex against a wall" fantasy? Well now you can, with ease and without putting your partner's back in agony. 
A door swing looks more like a sex swing (with straps) but easily installs over a door,it is also a more budget friendly option. In addition to quick installation, a door swing is also great for travel.
 Think 'off the charts amazing vacation sex'!
As with the sex sling, range of positions is quite limited, as you are pretty much restricted to seating positions. But it can gives an incredible twist to oral sex. 
What do you need to know before buying a sex swing?
Who will be using the swing?
It's important to decide who will be using the swing. Will only you use it, or will you use it interchangeably with a partner, or perhaps multiple partners? 
The reason for this question is that all swings have a weight limit. So depending on how you will be using it or who you will be using with it will determine which kind of swing and installation you should pursue. 
In addition if you intend to use this with multiple partners you may want to consider a swing that is adjustable for height and size. 
Comfort & Flexibility  
Safety
Although Sex Swings are generally safe, sex is a lot more fun when you feel safe and relaxed. Crashing and falling while in a compromising position is a HUGE mood killer and it hurts! 
So you need to make sure you read and follow installation instructions carefully and use the safety spring (or drawbar) correctly. The Safety spring basically takes excess pressure off the screws and frame by dampening the bounce, especially during wild and sexy times. 
In addition you need to consider how many mounting points you want. The more mounting points you have, the safer the swing will be due to weight being divided between the points, versus all the weight being put on one mounting point (we cover more about single and dual hooks below and the advantages and disadvantages of each one). 
Straps and seats
Sex slings are probably the best option for comfort as they are one piece of material, however sex swings vary from one another. 
Most sex swings have straps that are about as wide as a credit card (5 centimetres). This isn't particularly comfortable and may dig quite a bit into your thighs or other bits. 
So it may be worthwhile considering a Sex Swing with wider straps or seat, or alternatively seat with extra padding. Some of the better quality Sex Swings will actually mention "double padding". Alternatively you can use sex pillow in the seat for added comfort. 
Attachments 
There are a few key attachments to consider that could really add to your comfort and flexibility level – the ability to last longer! 
A headrest should be a serious consideration. Imagine you're laying back in the sex swing, legs in the air, butt comfortably seated in the swing and back adequately supported, but all of a sudden your neck starts to cramp, because its exhausted and you have to stop. Boo!
Headrests are often additional attachments but you will not regret getting them. 
If you're interested in BDSM and bondage, you are able to purchase additional bondage attachments for your swing, or you can purchase a bondage swing specifically. This is an even more exciting spin on sex swings and for your sex life. We have more on how to get into BDSM here. 
Another awesome and fun attachment that adds a great level of flexibility is a swivel. A swivel basically makes your swing spin. Yes, spin! This opens you to a host of new poses and experiences. But keep in mind you can only attach a swivel to a single hook (mount) swing. 
Installing a sex swing
Now that you've thought about how you want to use it, who you will use it with and what your comfort and flexibility needs are, you can get a better idea of whether you are more interested in a swing that mounts on one hook or on many. 
So what are the differences between single mount and dual mount swings? 
Benefits of Single Mount Swing
A single hook or mount requires less installation and less holes (if you're planning to drill holes in your ceiling). 
It's also a much more discreet option, as there is only one hook you would need to conceal, which can easily be done by doubling it as a hook for your hanging plant or even a reading swing. 
A big bonus to a single hook swing is the ability to turn it into a spinning swing by using a swivel. This can really be a lot of fun!
Benefits of Dual Mount Swing
The biggest benefit of a dual hook swing is comfort. When installing the mounting points you can choose the width or distance between the mounts, creating a wider and therefore more comfortable seating area. This is especially more pleasant  and comfortable for anyone with wider hips. 
And as discussed above, dual mounts are generally safer due to weight being distributed evenly, rather than one specific mount or hook taking all of the strain.  
Temporary or permanent? 
Now that you understand the difference between single and dual mount swings, here is a list of different ways you can mount your swing, some are temporary (no need to drill holes) and some are more permanent. So based on this list you can decide what is the best option for your needs and sexual desires. 
Ceiling Hook
This is the most common installation method. Most people who use sex swings are really into them and prefer this option, as it can be more safe. It is however the most permanent option, whereby either eye hooks or tie-down hooks are installed into your ceiling. 
You can install one hook  or multiple hooks into your ceiling, depending on whether you have a dual or single mount swing. 
Stand
This is the most popular option for non-permanent installation, they're very popular for larger rooms and other designated sexy areas. They're also great for both single and dual mount swings. Sex stands can be packed away and moved around, which makes them pretty discreet. 
They are however a pricey option, with swing stands going upwards of $200 (the good ones can be about $300 – $600) and take up a lot more space when assembled and paired with a sex swing. 
Door-to-Door 
When using a dual mount swing the door to door approach is great, especially if you have a corridor between two doors. It's easily installed with two door mounts which just slip over the door and hold in place when the doors are closed. 
This is a great temporary option, but does require two doors to be opposite to each other. 
Wall-to-wall
This is similar to door-to-door, but a more permanent solution, it requires tie-down hooks to be installed on opposing walls. 
This installation can only be used for dual mount swings. 
Pull Up bar 
A pull up bar is the easiest installation option and great for travel too. You can choose to permanently install the pull up bar and just attach your sex swing when you want to use it, or you can get a bar that clips temporarily onto a door frame. However there is a significantly lower weight limit, which also means that its best to use a dual swing with the pull up bar
Beam Strap 
This is basically a strap with loops that hangs over exposed beams or any other beam for that matter. It's a really easy temporary option and requires very little storage space, so it can be pretty handy for travel or taking your sex life outdoors (think trees, gazebos or a playground). 
You can use two straps for a dual mount swing or one strap for a single mount swing.
What's your Budget? 
This may be your key deciding factor, but like with everything else, the better quality options are usually the more expensive ones. 
But saying that, sex swing prices can range from $40 to $300, so you do have a wide range to work with and don't need to necessarily go to the maximum end to get a sex swing that is safe, comfortable and long-lasting. 
If you're new to this and just want to try it out first, you may want to go for a more budget friendly option, with the goal of investing in a more luxury sex swing if you really enjoy it. Often door swings are more affordable and may be a great starting point. 
Sex Swing Positions
So sex swings can really enhance sexual performance, pleasure and comfort. Sex swings take the pressure off your muscles and allow you to focus on your and your partner's pleasure. 
So by taking away the need for flexibility, strength and deep hip mobility, a sex swing gives you the opportunity to experiment with positions you may not have been able to try without it. 
Stand and Carry 
This is probably the most common position for sex swing users, especially with a door swing. 
One participant gets into the swing in a seating position wrapping their legs around their partner, while the partner penetrates them. This is a treat for that standing sex fantasy. 
The Wheelbarrow
The original wheelbarrow takes a toll on the upper body of the person being penetrated while they balance the entirety of their body weight on their hands. The straps of the sex swing however take away that strain. 
The receiver lays face down across the straps with their chest lower to the ground than their lower body, with their legs wrapped around their partner's waist, creating a very accessible angle for penetration. 
Doggy Style
Similarly to the wheelbarrow, traditional doggy style can put quite a bit of strain on your hands and wrists, except for when using a swing
.
Just as with the wheelbarrow you lay face down, parallel to the ground and allow your partner to enter you. By allowing the swing to move back and forth you can experience some of the deepest penetration!
Spread Eagle 
This is a variation of missionary and can be accomplished on a sex swing or sling. 
You (person being penetrated) lay face up with the straps comfortably hugging your back and ass (a headrest would also be beneficial here) and legs in stirrups spread as wide as possible to entice your partner to glide right into you. 
Cowgirl (Rider On Top)
An awesome spin on Cowgirl position, where the rider gets on top of their partner who is laying face up in the sex swing and rides their erection (or strap on) back and forth, allowing the swing to move, swing and bounce. 
Reverse Cowgirl (Reverse Rider On Top)
This is the far more adventurous sister to the Cowgirl position. And trust me, they (the penis and the person) will thank you for this one! 
They climb into the sex swing, laying face up, just as with the cowgirl. But this time you climb on top with your back to them, slightly leaning forward and your feet on the ground. The ground beneath your feet gives you the power to bounce up and down, while swinging back and forth. 
Did someone say 'best g-spot massage ever'?
Sixty-Nine (69)
We mentioned how sex slings and swings are great for oral sex, allowing you to elevate yourself or your partner into a more comfortable position. But what about dual pleasure? 
Yes, you can 69 on a swing! By using a swing you make sure no one gets smothered. Let one partner lay face up in the swing and adjust the swing to the correct height so that they can comfortably lick and suck away while their partner can comfortably bend over to return the favour by deep throating like a pro. 
Top Sex Swings
 
Pro – The Pipedream Fetish Fantasy Series Spinning Fantasy Swing has everything! It's a mid-tier option so still affordable and great quality, and the best part is that it can spin! There is additional padding on the seating which makes it far more comfortable and the installation process is pretty simple. 
Con -The straps themselves aren't very wide which can be uncomfortable when used for an extended period of time. But you can definitely add padding.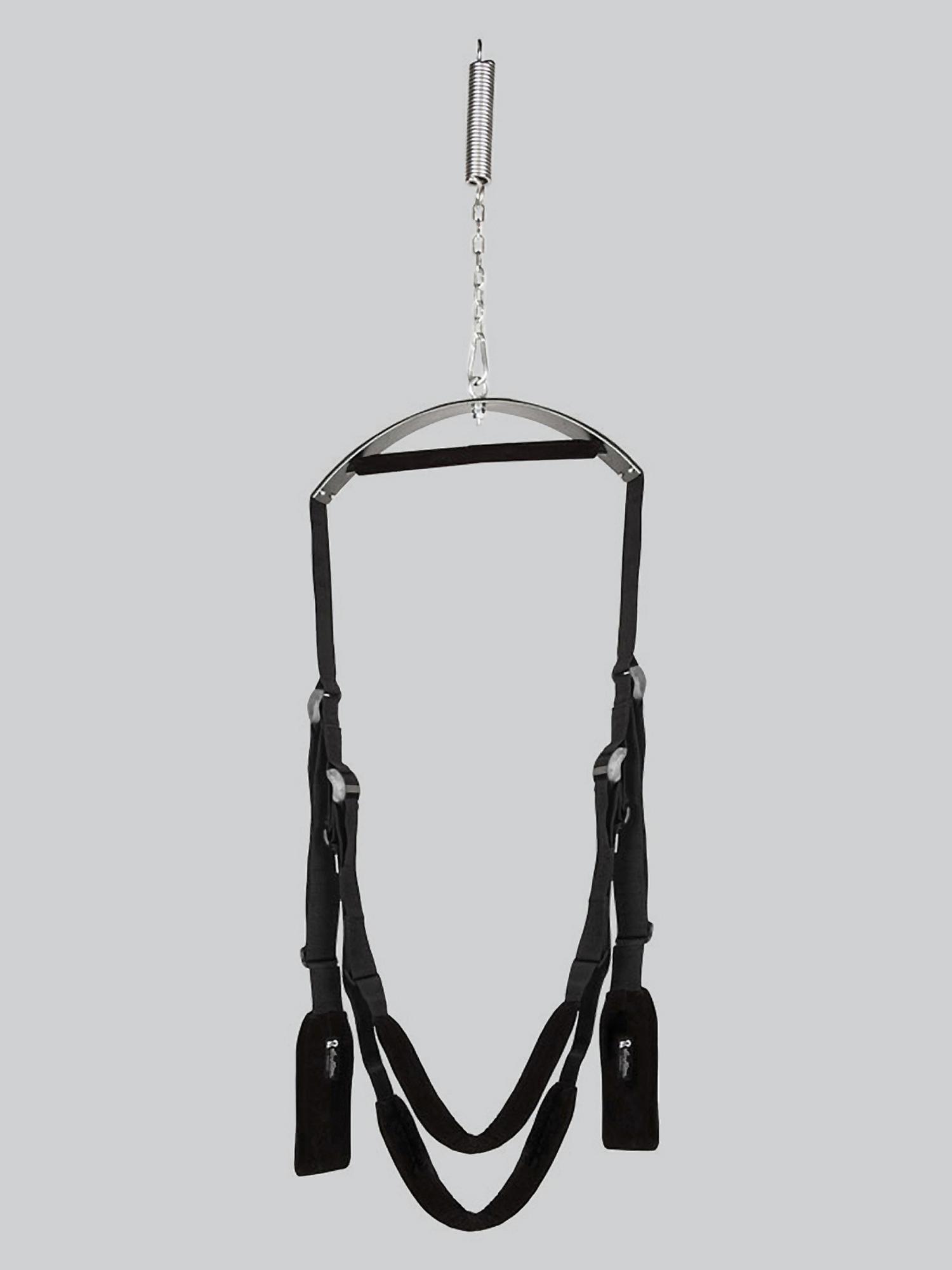 Pro – The Bondage Boutique Deluxe Fetish Swing gets its name due to its flexibility. This swing's straps are fully adjustable, allowing the users to conquer any position they wish, from the Tabletop to the Waterfall. The seat is padded and very comfortable. 
Con – This swing has no dedicated hand grips.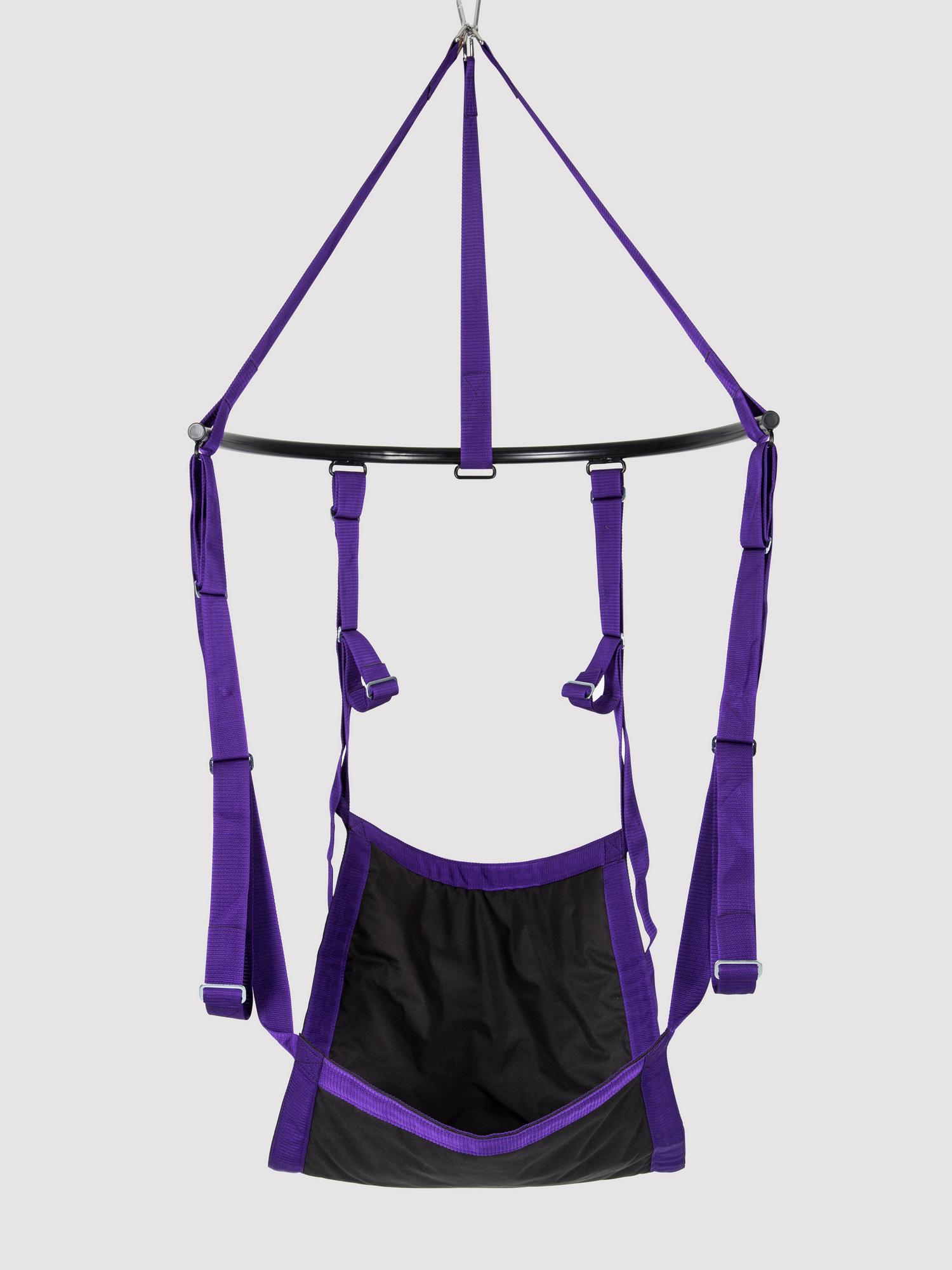 Pro – the Purple Reins Sex Sling is a very popular option for comfort as provides great support for the entire body and can maintain a weight of 300lb. It's also really easy to install as it only has a single mounting point unlike most other slings which usually have four. 
Con – The industrial-strength C-shape support frame of this sling makes it slightly more difficult to pack away or travel with.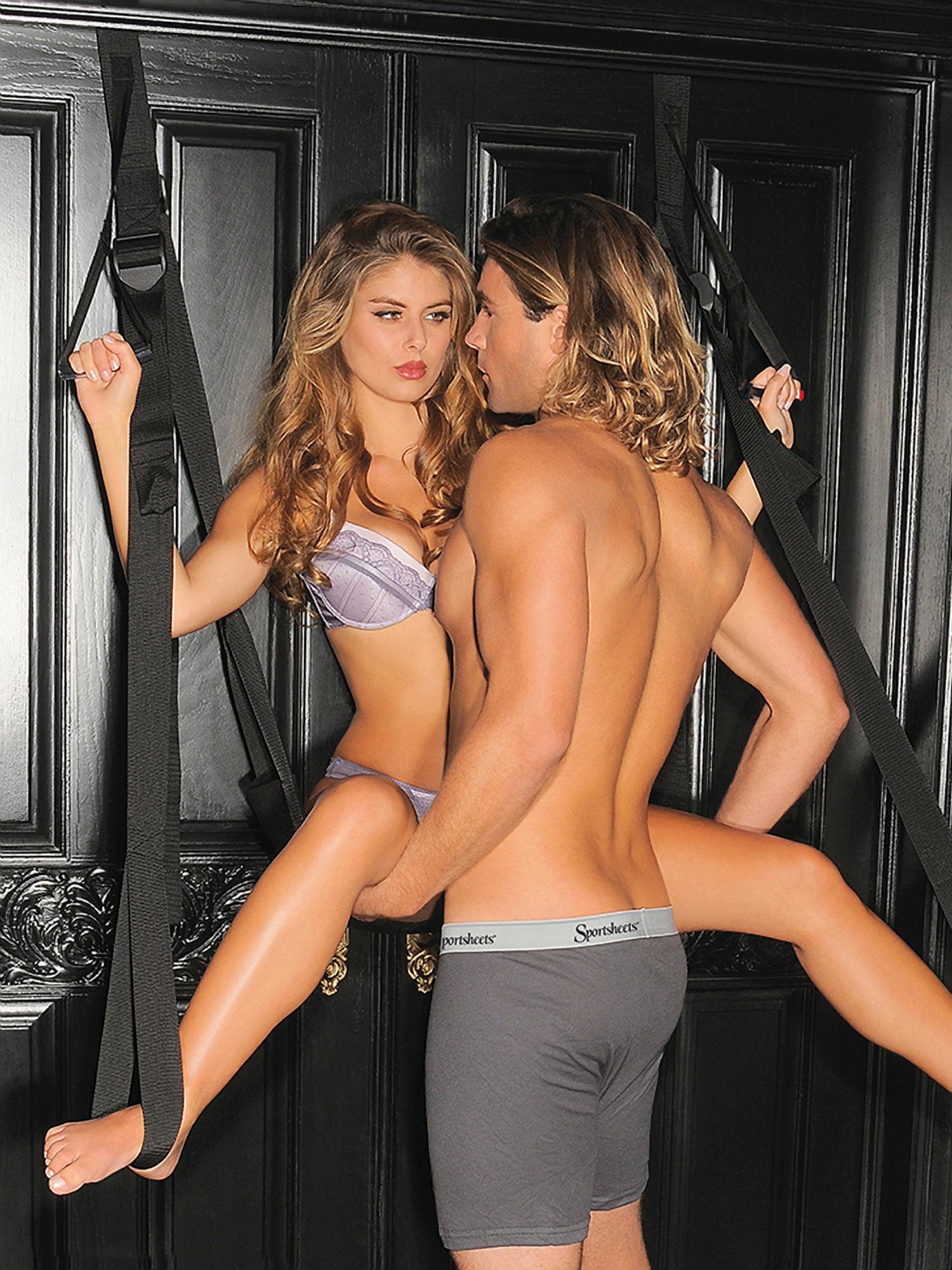 Pro – Door swings are great for many reasons, but mostly because they are super convenient and can be used pretty much any place with a door. The Sportsheets Sex Swing Door Jam Kit is made of sturdy material and can handle a good amount of weight.  It's also very comfortable and very easy to use, even for beginners. 
Con – The sturdy material the straps are made of can be a bit harsh on the skin.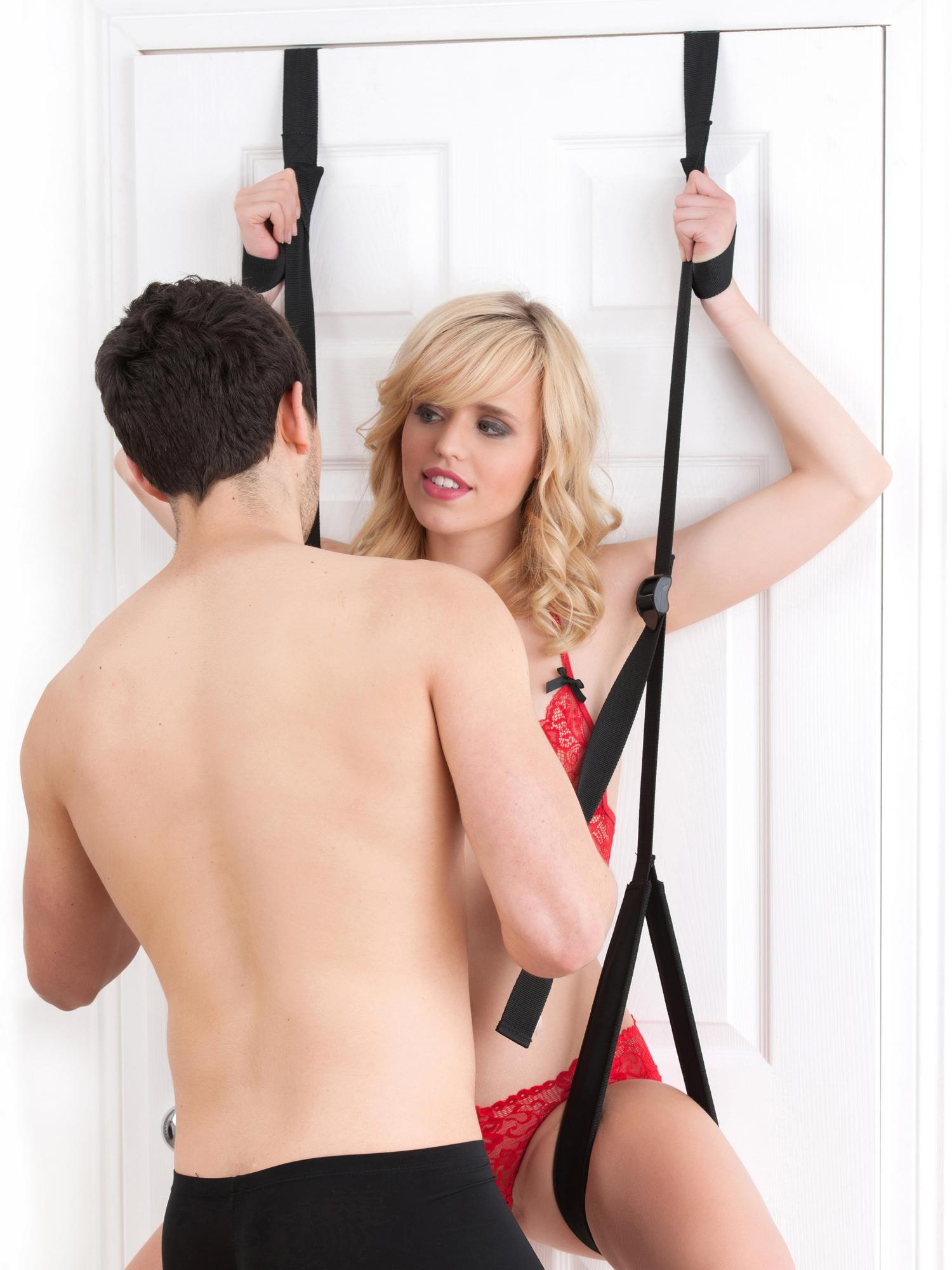 Pro – The Bondage Boutique Soft Over The Door Sex Swing is a great beginner option. If you're still not sure how you feel about sex swings or just want to dip your toe in then this is a fantastic option, plus it's a bondage swing, adding an extra edge to your sex life. As with other door swings it's easy to install and great for travel. 
Con – The thigh straps can be a little uncomfortable.
Pro – If you're looking for a non-permanent solution to mounting your swing then you need a sex swing stand, and the Pipedream Fetish Fantasy Swing Stand is the very best! It is great quality, extremely safe and easy to assemble. The stand has additional built-in "Bondage Loops", which allow you to connect any bondage restraints for an extra kinky experience!
Con – comes at a higher price point.
One last push!
That pretty much covered EVERYTHING there is to know about sex swing. Now that you know everything there is to know about them and how amazing they are… it will change your sex life. Hop on and have fun!