Being in a relationship with your man for quite some time means that you are doing something right.
You've got good chemistry and you're probably working hard to keep your man happy and satisfied. And he probably puts in the same effort as you.
However, even the most rock-solid relationships are subject to rough patches.
More…
Complacency is one of the most common problems long-term partners deal with. If this sounds like you and your guy, it only makes sense to think of some new things to try in bed.
BDSM: Top 4 Myths Debunked
Having said that, have you ever thought about introducing a little kink, by way of Bondage Domination Submission and Masochism (BDSM), into the bedroom?
It's one of the best ways of helping you and your significant other get that spark and sizzle back underneath the sheets.
Not quite convinced? That's understandable. BDSM has built up a questionable reputation over the years.
So I'm not surprised if the first thing (or male creature) that comes to mind when you hear the word is Christian Grey.
Firstly, let's take the opportunity to debunk the top four BDSM myths.

1. BDSM is all about sex.
While BDSM is highly sexual, it doesn't always involve sex. There are practices like binding which are performed as part of BDSM but doesn't have to lead to intercourse.
2. BDSM involves pain all the time.
BDSM involves pain. But to the person participating in the act, pain can also be a form of pleasure.
You'll need to agree on a safe word which can be used if the person on the receiving end of the act has reached his or her pain threshold.
3. Dominants are naturally controlling and abusive.
Thanks to the media, dominants have been consistently portrayed as socially privileged and abusive people who are always able to get away with their abusive deeds.
This is not so. Not all dominants are socially privileged and not all are control freaks like Christian Grey. Most are normal people who live normal lives like you and I.
The only exception is their penchant for kink, which is something that no one should judge them for.
4. Submissives have self-esteem issues.
Submissives are often looked upon as the passive party.
Those who just say yes to pain and torture all the time.
Those who allow themselves to be controlled and pushed around when, in reality, they're often the ones who are in control.
As you delve further into this world, you'll learn about topping from the bottom for example.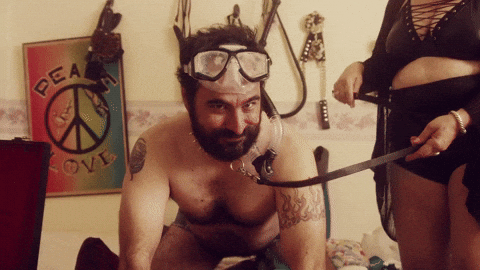 BDSM for Beginners: 7 Indispensable Tips and Tricks
Whether you're here because your relationship has gone stale or you and your partner are just plain curious about BDSM, I've put together seven tips and tricks for BDSM beginners.
1. Trust is a must.
As with all kinds of relationships, a D/s relationship requires unwavering trust from both parties. This is why it's not surprising for this kind of setup to work best for long-term partners.
They've been with each other for some time and trust has been cemented in their relationship already.
On the flip side, this doesn't mean that new couples who'd want to try BDSM are doomed to fail. As long as mutual trust is present and you're both into this kind of sexual exploration, you're all good.
2. Communicate EVERYTHING clearly.
Before you let your man get to work on you (or you on him), be sure to find time to have an open and honest conversation with him about the following:
· Likes
Which sexual acts are you cool with doing?
· Sensations you want to enjoy
Do you want an act to be sensual? Raunchy? Dominating?
· BDSM elements you're ready to experience
This can be erotic spanking, verbal discipline, orgasm control, or light bondage.
· Roles you want to explore
Will you be a dominant, submissive, or switch at different times?
· Degrees of play
How far will you be willing to go?
· Sex toys
Are you okay with bringing them into the bedroom and, if so, which are you comfortable using?
· Boundaries
Which sexual acts are non-negotiable for you?
3. Wear clothing you feel sexy and comfortable in.
You don't have to jump into leather, latex or PVC just yet.
Go for something that makes you feel like the part you're playing in the scene.
4. Explore one erotic adventure at a time.
Most couples who are new to BDSM try too many much at once.
If you're not sure where to start because you're a newbie, here are 10 hot entry-level BDSM activities to explore with your man:
Hair pulling
Aggressive language
Restraints
Light spanking
Biting
Tying up using a scarf or necktie
Using "Mistress" or "Sir"
Clothespins
Candle wax
Playing with sex toys
Using beginners' DIY BDSM toys
5. Check-in with one other after each session.
While basking in the afterglow of a BDSM session, don't forget to check in with your boyfriend. Ask him for his thoughts on your time together.
More importantly, ask about what he thinks each of you could have done to make the session better.
6. Use a safe word.
Safewords exist because you may need them at one point, especially if you're not fully aware of each other's limits.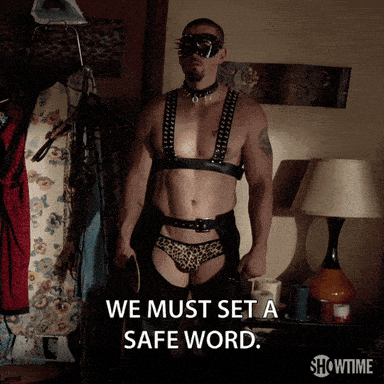 7. Attend play parties!
Aside from the internet, you'll be glad to know that there are BDSM conferences and workshops, a.k.a. play parties, that you can visit with your partner.
It's a great way to learn about BDSM and meet likeminded folk.
And if all of this is too much of a step forward for you and your man, see if learning to talk dirty is right for you.
You don't have to change who you are, or pretend to be a slut or whore.
It's simply a way to understand your man's sexual fantasies and needs and bring them to life.
Dirty Talk Secrets teaches you how to communicate intimately, and take your sexual relationship to the next level.